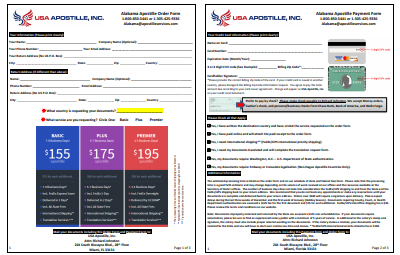 In order to mail in your documents for processing, you will need to download our ORDER FORMS.  All of our forms can be downloaded from this website.  You can also contact us at 1-800-850-3441 and one of our knowledgeable staff members can also e-mail you the forms and instructions.
What US State are your document(s) from?  Please download the order forms from the state your documents originate from or will be notarized in. (Example: Download the California order forms if your documents originate from the State of California or will be notarized in California).
For U.S. Federal documents (FBI Apostille, Social Security Administration (SSA), USDA, FDA, Certificate of Naturalization, etc…) click the following link: Washington DC Apostille.  Documents originating from the District of Columbia will need to download our District of Columbia – Secretary of DC Apostille order forms.
Office Hours: Monday – Saturday 9am – 6pm
Customer Support: 1-800-850-3441
Email: support@apostilleservices.com


What US State are your documents from? Click the State below to view our order forms, cost, processing time, and more…
We can process documents issued from all 50 U.S. States and the U.S. Federal Government.