USA Apostille, Inc. has nine strategically located offices in major metropolitan areas within the United States.
Our offices are strategically located in Washington State, California ( Los Angeles and San Francisco ), Colorado, Texas, Florida, Illinois, Washington, D.C., and New York.
Our objective is to expedite the process of authenticating your documents quickly saving you time, money, and the frustration of dealing with various government offices.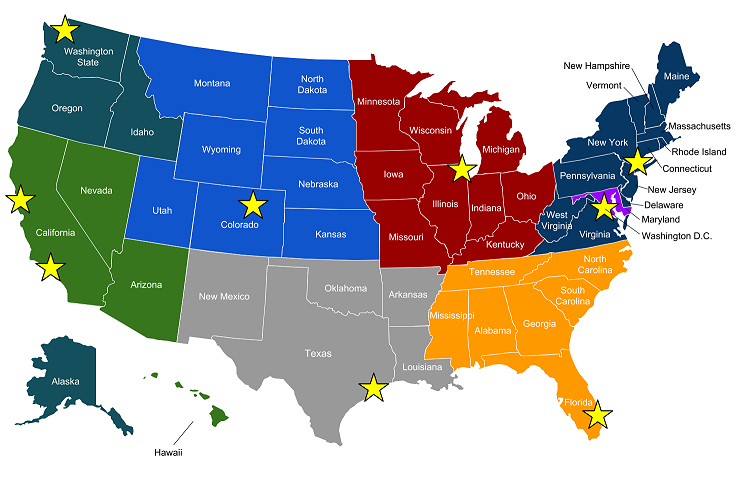 Below, is a current list of our nine offices. Our Office Hours: Monday – Saturday 9am – 6pm.  Please mail in your documents to the address listed on our order forms.
USA Apostille, Inc.
Washington State Apostille
1420 Fifth Ave., Suite 2200
Seattle, WA 98101
1-206-823-0145
WashingtonState@apostilleservices.com
USA Apostille, Inc.
San Francisco Apostille
580 California St., Suite 1200
San Francisco, CA 94104
1-415-890-5082
SanFrancisco@apostilleservices.com
USA Apostille, Inc.
Los Angeles Apostille
1901 Avenue of the Stars, 2nd Floor
Los Angeles, CA 90067
1-323-929-5565
LosAngeles@apostilleservices.com
USA Apostille, Inc.
Illinois Apostille
111 W. Jackson Blvd. Suite 1700
Chicago, IL 60604
1-312-819-4840
Illinios@apostilleservices.com
USA Apostille, Inc.
Colorado Apostille
4600 S. Syracuse St., 9th Floor
Denver, CO 80237
1-720-893-4095
Colorado@apostilleservices.com
USA Apostille, Inc.
Texas Apostille
2929 Allen Parkway, Suite 200
Houston, TX 77019
1-832-583-7435
Texas@apostilleservices.com
USA Apostille, Inc.
New York Apostille
1325 Ave of the Americas, 28th Floor
New York, NY 10019
1-646-859-7889
NewYork@apostilleservices.com
USA Apostille, Inc.
Washington DC Apostille
1101 Pennsylvania Ave., NW, Suite 300
Washington, DC 20004
1-202-894-6554
WashingtonDC@apostilleservices.com
USA Apostille, Inc.
Florida Apostille
201 South Biscayne Blvd., 28th Floor
Miami, FL 33131
1-305-425-9336
Florida@apostilleservices.com