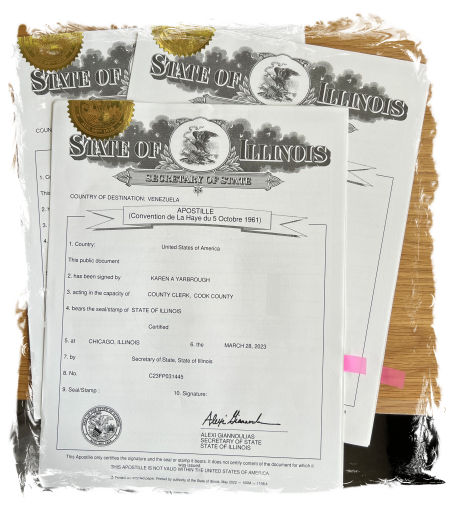 Do you need Illinois Apostille Services? Our office is located in Cook County and in the City of Chicago.
To apostille documents in Illinois, you will need to follow these steps:
Please make sure your documents originate from Illinois. If your documents require notarization, please be sure your documents are signed and notarized before you mail them to our office for processing. Our office in Chicago, can only apostille documents originating from or notarized in the state of Illinois.
Step 1: Obtain a certified copy of the document you want to apostille. This may be a birth certificate, marriage certificate, educational degree (diploma & transcripts), or any other document that requires authentication. We recommend that you contact the County Clerk's office for instructions on how to obtain a certified copy of your document if you don't have it.
Cost: As low as $75 for each apostille.
Office Hours: Monday – Saturday 9am – 6pm
Customer Support: 1-800-850-3441
Email: Illinois@apostilleservices.com
Download Forms: Illinois Apostille Order Forms


Step 2: Complete our Illinois Apostille Order Forms. You can download the forms from our website or contact us and we will email them to you with the instructions.
Step 3: Mail the completed form along with the original document to our Chicago, Illinois office. Please contact us for the most up-to-date processing time and availability.
Once your document has been apostilled, it will be returned to you by FedEx or UPS. The apostille will be attached to the document, certifying that it is a true and legal document that can be used for official purposes in other countries. You can seen an example of an Illinois apostille above. You can find a list of countries of are members of the Hague Apostille Convention.
It is important to note that the Illinois Secretary of State's Office only apostilles documents that have been issued by Illinois state agencies. If your document was issued by a federal agency, you will need to obtain an apostille from the U.S. Department of State.
Obtaining an apostille on your documents can be complicated. Don't leave this process to untrained employees or non-professionals who do not fully understand the apostille process and the unique requirements of certain countries. Your paperwork could be rejected costing you time and money. Don't let this happen to you!
Our staff is available Monday-Saturday from 9am to 6pm to answer your questions and provide you easy to follow-step-by-step instructions. Please call us at 1-800-850-3441.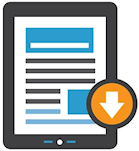 Click on the download image to your left to get started. Our apostille service is fast, convenient, and saves you time and money.