Do you need North Carolina Apostille Services?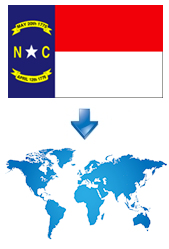 At USA Apostille, Inc., we take the guesswork out of obtaining an apostille on your North Carolina documents.
Our trained and knowledgeable staff are available Monday-Saturday from 9am to 6pm to answer your questions and provide you easy to follow step-by-step instructions.
Documents originating from the State of North Carolina are processed directly from the North Carolina Secretary of State's office. Our fees are as low as $75 and we also provide FedEx return shipping at no additional cost! Choose from one of our plans (Basic, Plus, or Premier) below and click the 'Download' button below to get started.
Cost: As low as $75 for each apostille.
Office Hours: Monday – Saturday 9am – 6pm
Customer Support: 1-800-850-3441
Email: NorthCarolina@apostilleservices.com
Download Forms: North Carolina Apostille Order Forms


Which County in North Carolina are your documents from?
We can also process documents issued from all 50 U.S. states, District of Columbia, and the U.S. Federal Government. Do you have additional documents from another State? Click on your State to download the order forms.
Please review our Terms of Service and Conditions and our Frequently Asked Questions (FAQ).