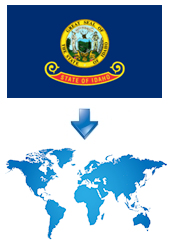 Are you looking for an example of a Idaho Apostille?
An Apostille is simply the name for a specialized certificate, issued by the Secretary of State. The Apostille is attached to your original document to verify it is legitimate and authentic so it will be accepted in one of the countries who are members of the Hague Apostille Convention.
The information below is what is included in the apostille:
Country … [country name]
This public document has been signed by … [name]
acting in the capacity of … [function]
bears the seal/stamp of … [authority] certified
at … [location]
the … [date]
by … [name]
No … [apostille registration number]
Seal/stamp … [of the authority giving the apostille]
Signature … [signature of authority giving the apostille]
Below is an example of the State of Idaho Apostille.  Please note that the look of the apostille may change including the name of the Secretary of State and signature.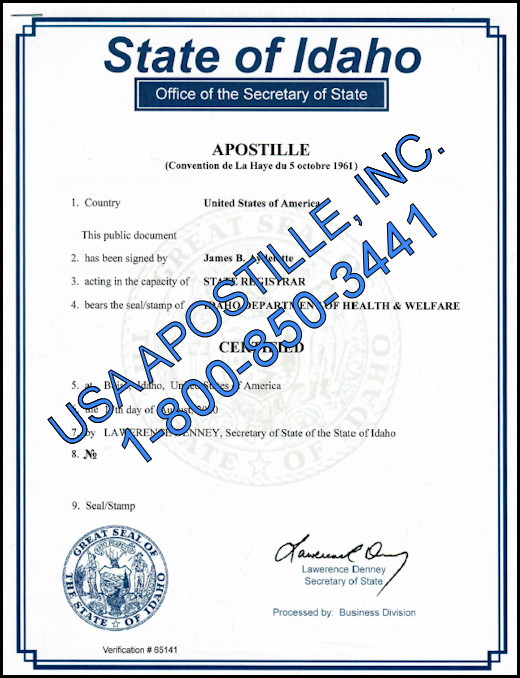 Common documents we can apostille are:
Birth Certificates
Marriage Certificates
Death Certificates
Divorce Decree
Single Status Affidavit
Background Checks (Local, State, FBI)
Power of Attorney
Copy of U.S. Passport
Copy of Driver License
Transcripts
Diplomas
Authorization Letter
Travel Consent Letter
Articles of Incorporation
Certificate of Good Standing
Certification of Free Sale
Certification of Origin
Corporate Power of Attorney
Commercial Invoice

We can also process documents issued from all 50 U.S. states, District of Columbia, and the U.S. Federal Government.  Do you have additional documents from another State? Click on your State to download the order forms.